BlackRock's voting record shows it has been undermining the objectives of a climate action coalition it has only recently joined, according to Eli Kasargod-Staub, CEO of pressure group Majority Action.
Speaking to Corporate Adviser, Majority Action CEO Eli Kasargod-Staub says: "BlackRock joined Climate Action 100+ and enjoyed celebrity as a result of having done so, but has then made a mockery of its own commitment by voting to undermine its objectives."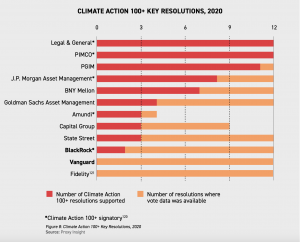 BlackRock voted against 10 out of 12 shareholder proposals flagged by Climate Action 100+ in the months following it signing up to the coalition, according to Majority Action.
Vanguard and Fidelity Investments, which is an entirely separate company from UK DC provider Fidelity International, did not support any of Climate Action 100+'s key 2020 resolutions, at the date the Majority Action research was published in September 2020.
LGIM and Pimco voted in favour of all 12 Climate Action 100+ resolutions. The Majority Action report only analysed the voting records of the largest asset managers in the world.
BlackRock, the biggest asset manager in the world, says it has been active in challenging company boards on climate change and other investor engagement issues, and says it has a strong track record in environmental, social and governance investing. In January, Larry Fink, chairman and CEO of BlackRock wrote to CEOs setting out the asset manager's commitment to sustainability and effective stewardship.
On 9 January 2020 BlackRock signed up to Climate Action 100+, a group of investors managing over £27tn in assets that aims to engage investors to reduce greenhouse gas emissions with a view to limiting global average temperature increase to below 2 degrees Celcius, in line with the Paris Agreement.
While there are many different pressure groups, coalitions and campaigns, Climate Action 100+ is seen by climate change activists as arguable the most significant investor initiative on climate change, targeting boardrooms with a view to getting polluting companies to implement meaningful plans for a transition to a low carbon future.
In a letter to CEOs on 14 January 2020, Fink said: "Our investment conviction is that sustainability – and climate-integrated portfolios can provide better risk-adjusted returns to investors."
With regard to stewardship, his letter went on to say: "We believe that when a company is not effectively addressing a material issue, its directors should be held accountable. Last year BlackRock voted against or withheld votes from 4,800 directors at 2,700 different companies. Where we feel companies and boards are not producing effective sustainability disclosures or implementing frameworks for managing these issues, we will hold board members accountable."
But climate emergency pressure groups say that while BlackRock has made these public statements in support of holding company boards to account, it has failed to vote in support of climate action in cases where it really mattered, failing to support 10 out of 12 of Climate Action 100+'s key 2020 resolutions.
Majority Action's Climate In The Boardroom report found BlackRock and Vanguard's holdings are so significant that at least 15 of 23 climate-change related resolutions would have received majority support if both asset managers had voted in favour of them.
Kasargod-Staub says: "BlackRock has the power to go to every board and say 'use your power to engage or we will replace you with people who will'. But this is not happening yet."
A BlackRock spokesperson: "BlackRock Investment Stewardship focuses on advocating for corporate governance and business practices that add value to our clients' investments – that means both engagement and voting.
"This year, our focus on climate was through engagement and holding directors accountable. In 2020, we identified 244 companies making insufficient progress integrating climate risk into their business models or disclosures. Of these companies, we took voting action against 53, or 22%. We have put the remaining 191 companies 'on watch.' Those that do not make significant progress risk voting action against management in 2021.
"More broadly, we continue to leverage stewardship tools to address ESG risks for our clients' investments. We have transformed our own disclosures as a stewardship team, publishing more vote bulletins than ever before. Our quarterly, annual, and topical reports also provide greater transparency as to how we are delivering on our commitment to drive enhanced climate risk reporting.
"We have increased our votes against directors, underscoring our sustained focus on director accountability globally. And, we have one of – if not the largest – global stewardship teams in the industry, reflecting BlackRock's commitment to making informed voting decisions and providing constructive feedback through continuous engagement that supports long-term value creation."
BlackRock points to a number of resolutions where it has pushed companies towards better management of climate risk. In October 2020 it voted against the board on a resolution to require AGL Energy Ltd, Australia's biggest power producer company, in support of the closure of two coal-fired power stations. It also voted against management at The Procter & Gamble Company, supporting a shareholder resolution relating to efforts to eliminate deforestation and its use of palm oil.
A spokesperson for Vanguard says: "Vanguard cares deeply about the long-term impact of climate change and we continue to engage with company leaders and boards on this important issue. Proxy voting and our voting record, while important, does not reflect the full extent of our actions with companies on the material risks associated with climate change and other environmental or social issues.
"Through our engagements, we have been encouraged by the progress and steps companies have taken to address issues where material risk is present.
"For example, this year we saw visible progress on commitments and climate-related disclosures at Santos Limited and Woodside Petroleum. Santos, for example, embraced carbon capture technology and aligned its reporting with the TCFD framework. Both companies have also committed to being carbon-neutral by 2050. Based on that visible progress, we did not support the shareholder proposals at either company. If a company does not make progress towards addressing such risks, we will hold them accountable."
BlackRock is the most widely used asset manager within UK pension default funds, used either as either a component of or for the entirety of the assets of more than half of UK pension default funds, according to Corporate Adviser's Master Trust & GPP Defaults report 2020.
The post BlackRock 'undermining objectives of climate coalition it just joined' – Majority Action appeared first on Corporate Adviser.