HSBC is being pressed to publish its plans to transition itself into a net zero bank by 2050 through a resolution from fifteen institutional investors with a combined US$ 2.4 trillion in assets under management.
The resolution, co-ordinated by responsible investment NGO ShareAction, calls on HSBC to publish a strategy and targets to reduce its exposure to fossil fuel assets, starting with coal, on a timeline consistent with the Paris climate goals.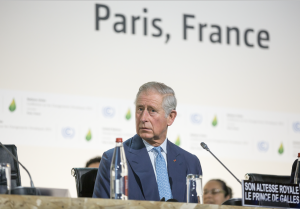 The resolution comes on the day that HSBC has been backed by HRH The Prince of Wales as HSBC Pollination Climate Asset Management has been named as one of three investor participants in his new Natural Capital Investment Alliance, part of the prince's Sustainable Markets Initiative. The other two founding alliance members are Lombard Odier and Mirova, an affiliate of Natixis Investment Managers.
Backers of the resolution include Europe's largest asset manager, Amundi, the world's largest publicly traded hedge fund company, Man Group, the Friends Provident Foundation and Sarasin & Partners.
HSBC is Europe's second largest financier of fossil fuels, after Barclays, according to the Rainforest Action Network (RAN). RAN found it had provided US$87bn to some of the world's largest fossil fuel companies since the signing of the Paris Agreement – between 2016-2019. In October 2020, HSBC announced an ambition to be a net zero bank by 2050 at the latest, an important move given the bank's strong exposure to Asia. But the announcement has been criticised by investors and campaigners for making no commitment to reduce HSBC's funding for fossil fuels, in particular coal, which has risen each year since 2016.
Analysis by ShareAction showed that in the four months leading up to its announcement, the bank pumped an additional $1.8bn into fossil fuel companies, including those constructing new infrastructure for coal and tar sands. These findings cast serious doubt over the credibility of HSBC's climate commitments, given that phasing out financing of fossil fuels is an absolute must for any net-zero strategy.
If the resolution receives more than 75 per cent of the votes at HSBC's AGM in April 2021, it would require the bank to publish a strategy and short-, medium- and long-term targets to reduce its exposure to fossil fuel assets on a timeline aligned with the goals of the Paris agreement.
The resolution encourages the bank to use climate scenarios that do not rely excessively on Negative Emissions Technologies when developing its targets. The IPCC special report on 1.5°C states that large-scale CO2 removal is "unproven" and that "reliance on such technology is a major risk in the ability to limit warming to 1.5°C".
The resolution follows in the footsteps of ShareAction's January 2020 resolution at Barclays – the first climate resolution backed by institutional investors at a major European bank. Barclays responded to that resolution by tabling its own and becoming the first mainstream bank to commit to net zero by 2050 at the latest.
Shareholders filing the HSBC resolution have signalled their hope that the board recommends a vote in favour of the resolution at its April 2021 AGM.
ShareAction senior campaign manager Jeanne Martin says: "The message from the resolution is clear: net zero ambitions by top fossil fuel financiers are simply not credible if they fail to be backed up by fossil fuel phase out plans. Five years after the Paris agreement was signed, HSBC continues to pour billions into the coal sector, a behaviour that is at odds with limiting global warming to 1.5°C. If HSBC is serious about its net zero ambition, it will support this resolution."
Man Group co-head of responsible investment Jason Mitchell says: "As Europe's largest bank and the second largest provider of fossil fuel financing, HSBC has the unique opportunity to help lead the financial services sector towards Paris-aligned commitments rather than mere ambitions. As shareholders supporting this resolution, we recognise the imperative and urgency for establishing targets and a timeline towards emissions reductions."
Sarasin & Partners head of stewardship Natasha Landell-Mills says: "In October, HSBC's Board announced an important ambition: to ensure its financing activities support efforts to limit Global Warming to 1.5C. Attention must now turn to implementation. In light of the urgency of the climate crisis, we have decided to co-file this Shareholder Resolution to seek a clear timetable for emission reductions from HSBC's financing activities. In the end, increasing financing for green activities only gets us halfway; the Board must be clear on its intent to withdraw financing of harmful emissions. The sooner the Board sets out its strategy for delivering this, the less disruptive the transition. And – above all – the greater the chances that HSBC helps to build, not destroy, our collective capital."
Friends Provident Foundation investor engagement manager Colin Baines says: "HSBC's ambition for net-zero emissions by 2050 means little without a transition plan to get there, including a timetable to exit fossil fuel finance that is aligned with the climate science. The fact that HSBC is still financing coal and tar sands frankly makes a mockery of any claims to take the climate crisis seriously and invites accusations of greenwash."
The post HSBC challenged to publish zero carbon timetable appeared first on Corporate Adviser.