Legal & General has extended its lead as the biggest UK DC pensions provider, growing its assets to £98.8bn by the end of June 2020, up 14 per cent year on year.
Second-placed Aviva also grew its market share, extending its lead over its nearest rivals by adding more than £8bn in DC assets over the period, according to figures from Corporate Adviser Intelligence's third iteration of its Workplace Savings Report.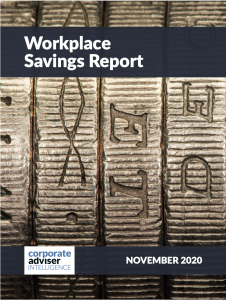 The report found workplace savings providers' assets grew by over 9 per cent in the year to 30.6.20, despite the impact of the early stage of the coronavirus pandemic. Workplace savings providers still dwarf standalone master trust players, holding over £367bn at 30.6.20, considerably more than the £54bn held in the 25 biggest DC master trust defaults as at 31.12.19.
Contract-based provider growth remains strong with both Hargreaves Lansdown and Royal London delivering double digit growth. The report shows new market entrant Cushon is bringing a group personal pension and a GSipp to market in early 2021, the first new player in this space for some time
Hargreaves Lansdown remains the largest workplace Isa provider by a massive margin, though some other providers are starting to gain traction, the report shows.
Active workplace Isa providers have all seen double-digit growth – ranging from 14 per cent to 139 per cent. However, several providers are not prepared to disclose their workplace Isa asset figures.
Research conducted for the report shows most advisers believe an Isa is a bigger priority for the workforces they serve than a lifetime Isa or a low cost payroll lending facility.
Report author and Corporate Adviser editor John Greenwood says: "The diversified asset allocation strategies across workplace pension default funds mean the average fund had recouped all its losses from the March 2020 Covid crash by the end of June 2020, for savers of all ages, so most of the increases reflected in the figures in the report have been generated through contributions, transfers or new business wins.
"While it's all systems go on the pensions side, the report reveals a more mixed story in the workplace Isa market, with some providers really stepping up their footprint while others appear to be treading water."
To request any of the full range of Corporate Adviser Intelligence reports CLICK HERE
The post L&G extends lead as UK's biggest DC pension provider appeared first on Corporate Adviser.